Stats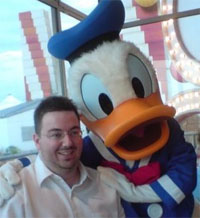 Name :

James Hague


Forum Nickname :

James


Age :

29


Started Collecting :

1989/1990 season



About Me
What do you do for a living?
Stats and data production
Which club do you support and why?
Spurs, don't know why always have. Family are from Liverpool (mums side) and dad is West Brom fan, so didn't inherit or get forced into it. Also got a soft spot for local team Gillingham, used to attend all the time in the early to mid 90's until I started to get charged adult prices
What do you collect?
Spurs (Home, Away, Reserve, Friendly, Teamsheets, Itineries, Fanzines & Other Memorabilia). Gillingham(Home & Away). Maidstone (Home), Arsenal (Home since 92/93), Man Utd (Home since 92/93), English teams homes in Europe (EC, ECWC, ICFC, UEFA & Intertoto), FA Cup Finals and Semi Finals, League Cup Finals and Semi Finals, West Brom (Home since 02/03), Ice Hockey memorabilia (Programmes, Autographs, pucks, pennants, Jerseys & DVDs)
How did you get into programme collecting?
Went to first ever live game with my father at local team Gillingham, went into club shop and they had some Spurs programmes on the counter, picked them up and carried on from there.
Your Collection
What was your first football programme?
Gillingham V Scarborough 89/90 season What was the last programme you bought?
Last one received was Lowell Lock Monsters v Portland Pirates 98/99 season. Programme was for the first ever game in the history of the Lowell Lock Monsters (Ice Hockey team)
How big is your collection?
13000+ football programmes, 2000+ other items (fanzines, yearbooks etc), 2300+ Ice Hockey programmes, 2000+ other items (jerseys, yearbooks, DVDs etc)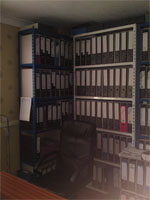 How do you store your collection?
Football programmes are stored in plastic pockets in A4 or foolscap folders then in a racking system in the study, Ice Hockey programmes stored similarly except they are in a racking system in a spare bedroom, everything else is either on display or stored in boxes or wardrobes around the house
Whats the oldest programme you own?
March 1922 Spurs reserve programme
What is the rarest item in your collection?
1970 pre-season tournament programme in Spain, involving Spurs, CSKA Sofia, Athletic Bilbao..
Which programme from your club is the rarest and most expensive to obtain?
Probably the 1921 and 1901 FA Cup Final, although some friendlies in the US and Canada in the 50's and 60's have gone for around the £1000 mark recently as well so will definitely need that Lottery win!
What is...?
What is your worst buy?
The 2300+ programmes which I don't want in my collection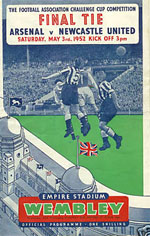 What is your best buy?
1952 FA Cup Final, mint condition includes song sheet which is in average condition for the whooping sum of £5, or the other one would be the 1993 FA Cup Final, Replay and both Semi Final programmes all for £15
What is the most you have paid for a programme and which one?
As long as no one tells the gf, £250 for the programme I mentioned above as being the rarest in my collection
What is the most you have received for a programme and which one?
Sold a few for a £10 each, can't remember which ones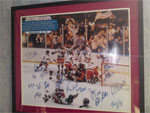 What is your most prized programme?
Can't really pick out one as my most prized, although most prized items in my collection are my fully signed picture of the 1980 USA Olympic Ice Hockey team, when they won gold. Picture is 20 x 24 and limited to only 80 (so I probably have the only one outside of the US), the other item that hangs with pride is my fully signed picture of the Phoenix Coyotes Cheerleaders. Tried to get them to have a photo but they wasn't allowed however they all signed a picture of themselves for me :)
Whats your biggest regret in collecting?
Spending my younger years trying to get programmes from each and every team, looking back would have been a lot better for me to have used the money concentrating on my Spurs/Gills collection, but hey ho nothing I can do about it now, just try and use those programmes to exchange for stuff I want.
The Hobby
In you opinion, is the programme collectors communtiy shrinking or growing?
Growing. I think with ebay, this forum and programme monthly more people are coming out of the woodwork as being collectors.
What do you enjoy most about the hobby?
Opening the mail to find that last programme to complete another season. Dealing with some of the wonderful people involved in the hobby
Where do you buy most of your programmes from?
Over the years I've bought large numbers of programmes from Steve Earl, Brentside, John Dee, Sportsprogrammes, Roger Triggs, Nick Manning, Richard Jupp, Neville Addison, Matt Addison and Ebay.
The Future
If money was no object, which programme would you most like to add to your collection?
Not fair just one so I would say 1921 & 1901 FA Cup Finals and the Semi Finals involving Spurs, that way I would have a programme for every major final Spurs have been involved in.
Would you ever sell your collection?
NO! I'd hope to leave it for my kids when I pass, and then leave it up to them to see what they want to do with it.
How do you wish to develop your collection over the coming years?
Complete Spurs domestic homes and aways back to 46/47, start working my way through the Spurs Homes during the 1920's and 1930's and the Spurs friendlies I need from 46/47 to date.  Complete my Gills collection back to 50/51. Finish off collecting all the English teams homes in Europe and maybe start collecting the Irish/Scottish/Welsh teams homes in Europe. Complete the West Brom homes that I want. Complete all the League Cup Finals and Semi Finals. Complete the FA Cup Semi Finals back to 1947 and pick up the 1947 FA Cup Final programme. Complete the Man Utd and Arsenal wants list I have got... oh and to achieve all of this WIN the Euro Millions this week!