Stats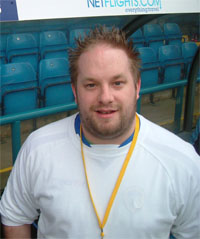 Name :

Kenny Sharpe 


Forum Nickname :

KCS


Age :

28


Started Collecting :

Probably around 1990 when I first became interested in football, serious collecting from 2004 when I finished university. 



About Me
What do you do for a living?
ICT Lecturer at a local college
Which club do you support and why?
Leeds United, purely because at the naïve age of nine and a half I asked my dad which team was good, he simply answered Leeds were good in seventies and your uncle Rob lived there… over 18 years, 1 title, 2 relegations, 3 play off heart aches, numerous matches and I am still going strong. Try to go as often as the purse strings allow, but living in Kent doesn't make it the quickest of days out!! Also follow my local team Ashford Town who play in the Ryman South division, don't really collect their programmes though.
What do you collect?
Leeds homes back to when I can get, just started collecting reserves that have first team tokens on them. Keep uming and aring whether to collect away programmes or not, have bought a couple of complete seasons.
How did you get into programme collecting?
I started going into the club shop at Ashford Town and picked up a few current season programmes (1989-90) Leeds homes, no internet then so was a good way to keep an interest into the club. I had 5 then decided to start building the collection. Picked up as much as my paper round would afford and slowly but surely built the collection into what I have today.
Your Collection
What was your first football programme?
Apart from Ashford Town v Charlton 1989/90 pre-season friendly it was probably Leeds v Wolves 1989-90.
What was the last programme you bought?
Leeds v WBA 1965/66 League Cup. Currently subscribe to all home and away games so this will change when pre-season starts. 
How big is your collection?
Leeds homes around 1400, about 300 aways and around 30 reserves.  
How do you store your collection?
All in binders in plastic wallets with a piece of card to keep them flat. Programmes from late nineties are on a bookshelf or two. Running out of room quickly.  
Whats the oldest programme you own?
Leeds v Cardiff 1947/48
What is the rarest item in your collection?
Have a couple of harder to find but not necessarily major rare ones. I have the 1973 Cup Winners Cup Final that goes for around 300 quid. A lot of fifties are starting to add up in cost. I also have all but one of the league cup homes from the sixties that can be expensive.
Which programme from your club is the rarest and most expensive to obtain?
Leeds v Rotherham LC 1961-62 - £800 Ferencvaros v Leeds 1968-69 (I Think) Fairs Cup Final £1000+ Barcelona v Leeds 1972 Fairs Cup Trophy Play Off final £500 + Some of the European aways such as CS Spora etc PP games from late fifties and sixties
What is...?
What is your worst buy?
None as yet, but perhaps could of found some more recent programmes on eBay as opposed to buying from dealers.
What is your best buy?
Cup Winners Cup Final for £130 (see above), recently brought Leeds v Birmingham 1959/60 pp game for £10, Michael Hewitt sells them for £150!
What is the most you have paid for a programme and which one?
Cup Winners Cup Final and 1966 World Cup Final for £150.
What is the most you have received for a programme and which one?
£190 for 1966 World Cup Final
What is your most prized programme?
Leeds v Notts County 1991/92, my first Leeds match. But all of them are equally treasured. 
Whats your biggest regret in collecting?
Perhaps no regrets but maybe knowing what I know now would have saved some money or developed my collection further.
The Hobby
In you opinion, is the programme collectors communtiy shrinking or growing?
I would have to say growing. Modern technologies such as the internet are certainly making the hobby more available to more people. I think the internet attracts the 'younger' person to the hobby. I know eBay has it's downsides but for me it's a positive to the hobby. Only have to look at how many people on this forum have found an item on eBay for a decent price. This forum would suggest that the hobby is growing too. 
What do you enjoy most about the hobby?
The challenge of finding them illusive programmes, the people I have met. I also enjoy searching through eBay for hours on end seeing what is happening in the programme world, the FPC also comes into play here. I also enjoy the quest of knowledge within the hobby and value the opinion and advice from wise heads! 
Where do you buy most of your programmes from?
eBay, Michael Hewitt and Kick Off programmes (subscribe current Leeds H & A with these guys, top bunch of people)
The Future
If money was no object, which programme would you most like to add to your collection?
Probably the rare Leeds ones mentioned above, any pre-war Leeds homes.
Would you ever sell your collection?
Not unless the benefit of selling them out weighed keeping them, e.g. an absolute emergency. Note to missus, shopping is not an emergency!
How do you wish to develop your collection over the coming years?
I may wake up shortly but… all homes back to the war. I am sure 6 little numbers need to appear in a line for this to happen!