Stats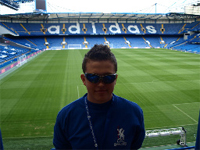 Name :

Steven Martin


Forum Nickname :

Dellboye


Age :

17


Started Collecting :

2007



About Me
What do you do for a living?
I work in a busy pub's kitchen delivering meals to people.
Which club do you support and why?
Chelsea because everyone on my dad's side of the family support them.
What do you collect?
Chelsea homes but have started going into aways as there is only a small amount of homes I need(about 13 from 1947-57).
How did you get into programme collecting?
When I found a FA Cup Final 1967 at a bootfair it made me want to collect Chelsea programmes.
Your Collection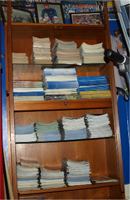 What was your first football programme?
A 1967 FA Cup Final Chelsea vs Tottenham (we lost)
What was the last programme you bought?
1949-50 Chelsea vs Liverpool
How big is your collection?
I have just under 1900 including homes and aways.
How do you store your collection?
In a nice old display cabinet.
Whats the oldest programme you own?
1946-47 Chelsea vs Charlton
What is the rarest item in your collection?
1952-53 Chelsea vs Stoke
Which programme from your club is the rarest and most expensive to obtain?
As above but our first home league cup programme vs Workington is almost equally rare and expensive.
What is...?
What is your worst buy?
I bought a reprint of the 1915 FA Cup Final between Chelsea and Sheffield Utd for £10 thinking that the reprints were pretty scarce.
What is your best buy?
I got the 1966 World Cup Final for free from one of my Dads work colleagues.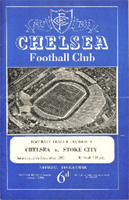 What is the most you have paid for a programme and which one?
About £79 for the 1952-53 Chelsea vs Stoke (I think there was a low print run).
What is the most you have received for a programme and which one?
I don't sell too many so I've probably only received a few quid.
What is your most prized programme?
All of them except the more recent ones.
Whats your biggest regret in collecting?
Not having enough money to buy all the programmes I want quickly.
The Hobby
In you opinion, is the programme collectors communtiy shrinking or growing?
I'm guessing it's probably sinking because of the recession. Lots of people are also having to downsize so football programmes are the first to be sacrificed.
What do you enjoy most about the hobby?
Chasing that final programme to complete a season
Where do you buy most of your programmes from?
97% eBay, 3% others i.e. brentside
The Future
If money was no object, which programme would you most like to add to your collection?
The 1915 FA Cup Final I think it fetches five figures at auction.
Would you ever sell your collection?
Never ever.
How do you wish to develop your collection over the coming years?
I want to eventually have a complete collection of Chelsea homes and aways from 1946-47 and also to have a large number of wartime and pre-war Chelsea programmes.