Stats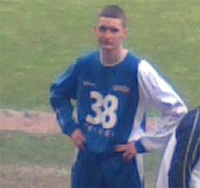 Name :

Mark Barrett


Forum Nickname :

Barrett


Age :

21


Started Collecting :

2007



About Me
What do you do for a living?
I'm an Insurance Advisor for a well known retail brand in the UK. I also help out the Data Analysts in the workplace. In my spare time I source members, articles, guides and ideas for Football Programme Centre.
Which club do you support and why?
I have supported Everton for as long as I can remember! My first game was actually at Anfield (boo!!) for Bruce Grobbelaar's Testimonial vs Everton in October 1992. My first 'proper' game was at Goodison Park for Everton vs Coventry City on 9th March 1996. I've seen the lows of the late 90's under Walter Smith and the highs of the 2000's under David Moyes. I blame my Uncle for all the stress I go through with Everton! Haha But at the moment (2009) it's a very good time to be a Toffee!
What do you collect?
I currently have a 99% full collection of Everton vs Liverpool programmes (home & away) from League + Cup games since 1950. Just missing one from 1951 in Division 1 at Anfield. So that's 119 out of 120 programmes. I also collect Everton European home & away of which I have 55 out of 61 programmes. Finally I want to have every home programme (League & Cup) since 2000. This shouldn't be too hard so I get a few programmes every now and then.
How did you get into programme collecting?
About 10 years ago my Uncle gave me a load of 1980's Everton programmes and I was fascinated with them! Although as I was only about 11 then I could only get programmes from the games I used to attend so I didn't really start collecting properly until about 2 years ago and I have been hooked ever since! Sometimes spending much more than I should do!
Your Collection
What was your first football programme?
My first programme was from the first game I ever attended. Bruce Grobbelaar's Testimonial – Liverpool vs Everton, Anfield, Sat 10th October 1992.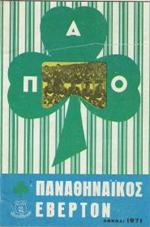 What was the last programme you bought?
Panathinaikos vs Everton, European Cup Quarter Final 2nd Leg, Wed 24th March 1971. It's a programme that has escaped me for quite some time but I finally managed to get it off eBay (boo again!) for £40. We drew 0-0 after a 1-1 draw at Goodison and went out on away goals. This was probably the best team we have ever had with the likes of Roger Kenyon, Jimmy Husband, Joe Royle and of course, 'The Holy Trinity' of Howard Kendall, Colin Harvey and Alan Ball!
How big is your collection?
My collection isn't really that big compared to a lot of people's as I specifically concentrate on Everton vs Liverpool programmes and our European games. I probably have around 300-400 programmes at the moment but I am happy with that number as they don't take up too much space and I am getting closer to what I set out to achieve.
How do you store your collection?
All of my programmes are kept in 3 huge plastic flip lid boxes. I need to obtain some acid free plastic wallets to store them in and possibly get some dividers to split them all up.
Whats the oldest programme you own?
I got lucky in the fact I was given a load of old Rugby programmes from the 50's and 60's which I swapped for a few Everton War time programmes. The oldest of which is from a Football League match against Liverpool at Goodison Park in October 1943. It's abit tatty now though with a lot of scuffs and creases and a few bits of selotape holding some parts together.
What is the rarest item in your collection?
I don't think I have many rare items at the moment. The 'rarest' in my collection is possibly the 1950 FA Cup Semi Final between Everton and Liverpool at Maine Road which is worth about £50 but you can pick this up easily if your willing to pay out. Next is probably either Panathinaikos away in the 1970-71 European Cup, Nurnberg away in the 1965-66 Inter Cities Fairs Cup or Keflavik away which was also in the 1970-71 European Cup. The latter 3 programmes are worth between £15 - £50.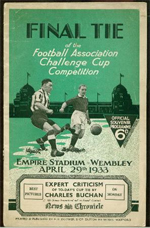 Which programme from your club is the rarest and most expensive to obtain?
We have quite a number of rare/expensive programmes but non more so that the 'MEGA RARE' much-sought-after programme that is Valerengens vs Everton on Wednesday 23rd September 1964 in the Inter Cities Fairs Cup 1st Round 1st Leg. I have only ever seen this for sale once in the past few years and it went for over £2000! Others that are quite hard to get hold of and quite expensive are:
Manchester City (n) FA Cup Final 1933. £400-£500
Aberdeen (n) Canadian Tournament 1956. £230+
Tranmere Rovers (a) League Cup 1960. £50-£60 (if insert is included)
Dunfermline Athletic (a) ICFC 1962. £30-£40
Inter Milan (a) European Cup 1963. £100+
Kilmarnock (a) ICFC 1964. £70-£120 New South Wales (a) Friendly 1964. £150+
Aalborg (a) ECWC 1966. £40-£50 Borussia Moenchengladbach (a) European Cup. £80+
Panathinaikos (a) European Cup. £30-£50
ANY Everton vs Liverpool (Home & Away) Pre 1943. £70+
What is...?
What is your worst buy?
I'm quite lucky in the fact I haven't had any really bad buys.. . yet! I have had a few which have been sent in a different condition as described but have been refunded when the seller was approached. If I had to pick the worst it would be buying what I thought was an official programme for a European game against Fiorentina in 2008 for £10 and when I received the item it looked like it had just been knocked up on a computer in 5 minutes.
What is your best buy?
Not so much a buy but more of 'obtained'. I was given a bunch of Everton programmes from a family friend a few years back which contained numerous programmes which would of set me back a few quid. 1963 + 1966 Charity Shields and most of the Merseyside Derby games from the 1960's and 1970's! It also contained the 1964 Charity Shield between Liverpool and West Ham Utd which I sold for £180!!!
What is the most you have paid for a programme and which one?
Hmm, hard one to remember this. Most probably a recent purchase when I bought the 1950 FA Cup Semi Final between Everton & Liverpool for about £40ish.
What is the most you have received for a programme and which one?
The 1964 Charity Shield between Liverpool and West Ham Utd which I sold for £180!!! I didn't know the value of it so when it finally sold for that amount I was ecstatic! Even more so because I had been given it for free!
What is your most prized programme?
don't have a favourite at the moment or one that means more to me. If I was help at gun point and could only choose one to keep I would end up picking the Panathinaikos away programme that I mentioned earlier on. Only because when it comes up for sale everyone wants it.
Whats your biggest regret in collecting?
I don't have many regrets in programme collecting. I don't think I've been collecting long enough to realise what mistakes I have made. If I could change one thing it would be to have more patience when programmes that I require become available as I jump the gun abit and maybe spend more than I should. If I just wait that little bit longer I would get it for a lot cheaper.
The Hobby
In you opinion, is the programme collectors communtiy shrinking or growing?
Well I wasn't around in the 'Golden Age' of collecting of around the 1980's so that's a hard question for a new collector like myself. Everton used to have a 'Programme Collectors Club' and sent brochures out every 2 weeks. This had a few thousand subscribers as did the likes of Programme Monthly and other publications and the fairs were well better attended back in those days so I'm told. Hopefully in the near future we can get back to those days again as the more collectors the better. That's why myself and Craig started Football Programme Centre to bring the community together in one place as the internet is such a wonderful thing with vast amounts of collectors spread out all over the place.
What do you enjoy most about the hobby?
efinitely The Programme Forum! I remember starting the forum up myself in 2007 and hoping maybe 1 or 2 collectors would join and I could learn some new information from them. Then Craig joined and we decided to merge his new site and my forum together and create a programme community which now has 250+ members! I have learnt so much about programme collecting in these past two years from meeting new people through Football Programme Centre and it has helped me appreciate how much hard work that sellers and buyers put into keeping the hobby going!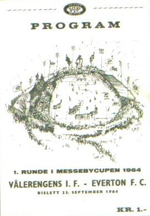 Where do you buy most of your programmes from?
Most programmes are sourced through eBay as you can always pick up a bargain or two on there on a daily basis! I don't tend to use dealers as much anymore as what I'm looking for in my collection dealers don't have much of. The only problem is the fee's that eBay charge to either sell a programme or even buy one!
The Future
If money was no object, which programme would you most like to add to your collection?
It's got to be the 1964 Valerengens vs Everton, Inter Cities Fairs Cup programme! It really is that rare that if it came up for sale I would be extremely tempted to take out a £3000 loan just to buy it!
Would you ever sell your collection?
Yes. If I really needed to sell it to help out my family I would. The only programme I would never sell if I owned it would be the rare Valerengens away programme. I would sell anything else before that.
How do you wish to develop your collection over the coming years?
I would like to extend my Merseyside Derby collection back to 1940 at the least. It's going to get a lot harder and more expensive now though. I would also like to have every Everton European game, just 5 needed now if I exclude the extremely rare Valerengens game. And I would also like to get all Everton homes, FA Cup Finals, League Cup Finals and Charity Shield Finals since 2000 but those 4 are only really side projects and will be added to as and when I get some spare cash.