Stats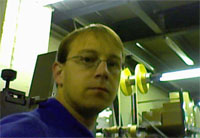 Name :

Darren Hunt


Forum Nickname :

atletico


Age :

38


Started Collecting :

Early 1980's



About Me
What do you do for a living?
Printer
Which club do you support and why?
Aston Villa, aged 8 and living in Nottingham my dad used to take myself and my brother to Forest matches, but I wanted to support my own team so I decided whoever Forest play on Boxing Day 1979 I would support.
What do you collect?
Aston Villa Homes, Villa News & Record issues and all other matches played at Villa Park.
How did you get into programme collecting?
Used to get a programme from every Forest match when I was a kid, then a friend gave me lots of Notts County programmes and when I started going to Villa matches in the late 80's the collecting bug started to take hold.
Your Collection
What was your first football programme?
Can't remember the exact match, probably a Forest programme from 1977.
What was the last programme you bought?
A Villa v Liverpool programme from 1964 off eBay.
How big is your collection?
I have every Villa home game from 1958 apart from a few gaps (Early League Cup Semi's & Final's cost a fortune!)
How do you store your collection?
All in plastic wallets & binders, stored by season.
Whats the oldest programme you own?
Villa v Bradford City from 1921
What is the rarest item in your collection?
No very rare issues but the Youth Cup Semi v Chelsea is pretty scarce with only 5,000 printed.
Which programme from your club is the rarest and most expensive to obtain?
I've heard there's only 50 or so around for the Postponed League game v Chesterfield in 1972, as most of them were destroyed before publication.
What is...?
What is your worst buy?
None so far although I have bought the same programme twice in the same week! It's important to have an up to date filing system. I use an excel spreadsheet where I have details of every game Villa has played Home & Away & every match at Villa Park with team line-up's etc.
What is your best buy?
Payed £5 for a bound volume from 1981-82 (The season Villa were European Champions). Have seen it sold at Auction for £600.
What is the most you have paid for a programme and which one?
About £20 for a pre-War Issue.
What is the most you have received for a programme and which one?
Sold a Villa v Chelsea Youth Cup Semi programme for £20 on Ebay.
What is your most prized programme?
Probably my Pre-War programmes.
Whats your biggest regret in collecting?
That I haven't got a bigger house or bank account!!!
The Hobby
In you opinion, is the programme collectors communtiy shrinking or growing?
With the internet, I think interest in collecting has increased. Now you don't need to wait for Programme Fairs to fill the gaps. Also prices have dropped due to eBay.
What do you enjoy most about the hobby?
Having every programme from each season.
Where do you buy most of your programmes from?
I buy most of my programmes from eBay.
The Future
If money was no object, which programme would you most like to add to your collection?
I like to have all the early 60's League Cup Semi's and Final's and then there's all those Pre-War issues to collect……
Would you ever sell your collection?
One day maybe if I needed the money.
How do you wish to develop your collection over the coming years?
Just keep going further and further back into the early 40's and 50's.