Stats
Name :

Adam


Forum Nickname :

CarlisleUtdMem


Age :

Late 20's


Started Collecting :

Started to buy the odd programme in 1995 and seriously started to collect in 2003.



About Me
What do you do for a living?
I work for the NHS in Cumbria working as an Applications / Web Developer. I also work freelance and develop and maintain websites for small businesses.
Which club do you support and why?
I support Carlisle United and have done since my Dad took me to my first game against Halifax Town on 28th January 1989. We went to a handful of games for the next few years until 1995 when we started to go to most home games.
What do you collect?
I collect anything Carlisle United includes programmes from 1970 to date as well as tickets, team sheets, reserve, youth, books and magazines/fanzines. I also collect big match from 2000 to date which includes: England homes FA Cup Finals FLC Finals Charity Shield Champions League Finals Associate Members Cup Finals First / last grounds I recently started to buy ticket stubs, and finally I also buy a programme for each game I go to and keep this in a separate collection so if one day I have to sell up my main collection I can still keep those programmes/tickets of those games for memories.
How did you get into programme collecting?
When I started going to games more regularly I started to enjoy reading the programmes and then towards the end of our title winning season in 1995 I started to buy programmes from away games. This continued until 2003 when I finally got a list together of all my programmes and wants.
Your Collection
What was your first football programme?
My first programme was from the first game that I attended – Carlisle United v Halifax Town, 28th January 1989.
What was the last programme you bought?
I've just got hold of the programme from the first match at the Pirelli Stadium – Burton Albion v Chester City in a pre-season friendly.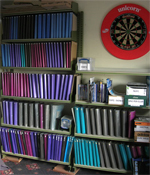 How big is your collection?
My collection currently stands at: Carlisle United first team 1970 to date: Programmes: 2,500 + Tickets: 650+ Teamsheets: 250+ Carlisle United reserves / youth: 150+ Big match: all from 2000 except 3 First / last grounds: 115+ Tickets: 1,000+ Matches attended: 575+ I also have hundreds of pre-1970 programmes but I've never listed these.
How do you store your collection?
My Carlisle United programmes are all stored in A4 display books (bought for 99p each from Tesco) in date order. My big match programmes are held in expanding files also from Tesco whilst ticket stubs are kept in 7x5" photo albums from Jessops. These are all held on some shelves I got from our Library at work which were going into the tip!
Whats the oldest programme you own?
I only collect from 1970's to date but I do have a 1947/48 Carlisle United v Mansfield Town.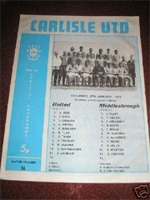 What is the rarest item in your collection?
There are a number of Carlisle United ones which seem hard to come by – the 1973/74 Gillingham away in the League Cup seems to be on most people's wants list, as does the 1990/91 Rochdale Associate Members Cup programmes. I'm told there were only around 12 printed (for those who pre-ordered them) on 08/12/1990 as the game was postponed early on. The re-arranged fixture is the same 4 page programme but with a date stamp over it but even these seem rare.
Which programme from your club is the rarest and most expensive to obtain?
I'd say the following are the most expensive from 1970's to date (I don't really know anything pre-70): 1972/73 Carlisle United v Middlesbrough - £400+ 1973/74 Gillingham v Carlisle United - £50+ 1974/75 Derby County v Carlisle United - £80+ 1990/91 Rochdale AMC 08/12/1990 - £50+ 1990/91 Rochdale AMC 18/12/1990 - £50+
What is...?
What is your worst buy?
I bought a load of 90's Carlisle United from a friend despite these having team changes on most of them. This was in the early days of buying programmes but now I know they'll have to be replaced one day. I also bought 500 mixed programmes which has taken me years to get rid of.
What is your best buy?
I managed to buy most of our 1974/75 First Division season for only a few pounds each – even completing the set with the rare Derby County one for only £30.
What is the most you have paid for a programme and which one?
As far as I remember it would be the £30 Derby one mentioned above together with those Rochdale ones which I paid £30 each too.
What is the most you have received for a programme and which one?
I try to exchange programmes for those I need rather than sell however I did buy a few extra copies of the 2005 AC Milan v Liverpool Champions League Final and the first FA Cup Final back at Wembley which I sold on eBay for good profit. The FA Cup Final programmes were selling for £100 plus on the morning of the game despite it being easy to get hold of. Those stupid enough to pay that didn't notice you could get it at a buy it now price of around £13! If I remember right I sold 3 for £35 each.
What is your most prized programme?
Those would have to be the First Division season set from 1974/75 as we're never going to reach those dizzy heights again! My collection of games I've attended are also very important to me. There isn't a single particular programme that stands out though.
Whats your biggest regret in collecting?
I don't have any regrets really other than not starting earlier!
The Hobby
In you opinion, is the programme collectors communtiy shrinking or growing?
It seems to be growing thanks to the Internet – obviously eBay helps in that respect but seeing the growth of the forum on this website it shows that this is still a popular hobby.
What do you enjoy most about the hobby?
Now I'm only missing around 40 from my Carlisle United collection just the buzz in finding one of those on my wants list!
Where do you buy most of your programmes from?
I buy most on eBay – I only subscribe to one programme dealers catalogues but even then I rarely buy anything from it now. Recently I've done exchanges from people on the forum which has been great.
The Future
If money was no object, which programme would you most like to add to your collection?
1972/73 Carlisle United v Middlesbrough. The printers had a fire the night before the game and the only ones that survived were those that the staff took home with them. I've only seen it once for sale and it went for £400+ on eBay.
Would you ever sell your collection?
I don't think I'll be selling it any time soon, but if I needed the money for my family then I would be willing to. Last to go would be my first/last grounds and those from the games I've been to.
How do you wish to develop your collection over the coming years?
I would like to complete my Carlisle United collection back to 1970 and fill in those other few gaps especially the first/last grounds. Other than that I will just keep buying them as the season's role on. I don't have the time/money or space in the house to start collecting any more.