Stats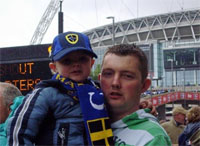 Name :

Craig McGowan


Forum Nickname :

Craig


Age :

24


Started Collecting :

2008



About Me
What do you do for a living?
I'm a partner in a Web Design & Development Company and also the director of a Car Hire company. Then in my spare time I can be found developing Football Programme Centre.
Which club do you support and why?
I support Cardiff City and have done since I begged my Dad to take me to my first game against Torquay United in February 1993. Cardiff got promoted that year, from what was Division 3 at the time, and since then I have seen Cardiff yo-yo up and down the leagues to our current position as an established Championship side.
What do you collect?
I collect Cardiff City home programmes from 1950 to date. I have also decided to collect FA Cup Finals from 1950 to date but this has been put on hold at the moment because funds are tight!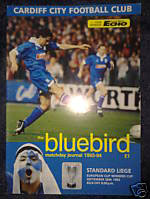 How did you get into programme collecting?
y Dad bought me a programme at that first game against Torquay and then at every other game we attended. I didnt set out to start collecting programmes until a few years later, by which time I already had a fair few from the games I had been to. This was also topped up by a friend of my fathers who gave me a load of programmes from the 70s and 80s.
Your Collection
What was your first football programme?
My first programme was from the first game of football that I attended - Cardiff City vs Torquay United, 13th February 1993. We were in Division Three at the time and the programme set my Dad back £1.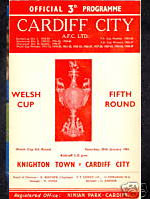 What was the last programme you bought?
Knighton Town vs Cardiff City, 28th January 1961. Bought off eBay on the weekend for £11.61. The programme is from a Welsh Cup 5th Round game which despite being Knightons home game, was infact played at Ninian Park. The programme is produced by Cardiff and is of the same style as ours at the time, however the normal blue print is all in Knightons colours, red. Coincidently, Cardiff recorded their biggest ever win during this game - 16-0!
How big is your collection?
I currently have just over 1,600 home programmes in my Cardiff collection. I also have around 200-300 away programmes, although I am not actively collecting these - they are either 70\s editions which were given to me by a family friend, or from games which I have attended over the years. My FA Cup Final collection has never really got off the ground and I only purchased a handful before I decided to stop, however I have 18 of the 65 I wish to collect. Besides my collections I also have around 6-7000 programmes which are waiting to be catalogued for sale via this site.
How do you store your collection?
My home programmes are all stored in A4 binders, within polypockets, categorised by season. My away programmes have never fully been sorted through so these are just in a box!
Whats the oldest programme you own?
Having only taken up collecting again seriously around 6 months ago I dont have many old programmes at all. Infact, from the 1950s I only own 10 programmes - 4% of the programmes I want to collect from the decade, so I still have a long way to go! The oldest of these is from a Division Two fixture between Cardiff City and Leicester City on 17th February 1951. It has a large tear to the front cover though. I have a programme from three weeks later though, against Doncaster, which is in mint condition.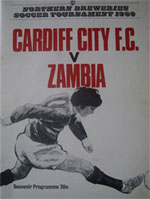 What is the rarest item in your collection?
The rarest items in my collection are from a tour of Africa which Cardiff embarked on in the summer of 1969. We played Tanzania on 11th May, Mauritius on 18th, 22nd and 25th of May and ended up with games against Zambia on 29th May, 1st and 4th of June. 3 programmes were issued to cover the whole tour - a single sheet edition for the Tanzania game which and then an extensive programme to covver the Mauritius games and one for the Zambia games. I believe the Zambia programme is the rarest of the lot and was recently for sale at a local dealer for the pricey sum of £500!
Which programme from your club is the rarest and most expensive to obtain?
Im not sure of any reasonably priced rare items. Sadly all of Cardiffs rare programmes seem to command a kings randsom. Theres a big list of games post war that would all set you back atleast £100+;
Tanzania (a) Pre-Season Friendly 1969. £150+
Mauritius (a) Pre-Season Friendly 1969. £150+
Zambia (a) Pre-Season Friendly 1969. £250+
PO Larnada (a) ECWC 1970. £175+
NAC (a) ECWC 1967. £150+
BFC Dynamo (a) ECWC 1971. £100+
DWS Amsterdam (a) Pre-Season Friendly 1969. £150+
West Ham (h) League Cup Semi-Final 1966. £130+
Luton Town (a) League Cup 1968. Never played as Luton refused to allow Cardiff fans. Sold today for £120 on Sportingold
Tour of Australia/New Zealand in 1968. Numerous programmes all £100+
Esbjerg (a) First away ECEC game 1964. On eBay for £400
The list could go on too..!
What is...?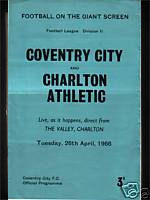 What is your worst buy?
Luckily I've not really had any bad buys. I did bid £5 last night for what I thought was a programme issued by Coventry City, for their game against us in 1965 for the first TV beam back of a game. Luckily I was outbid as I had clicked onto the wrong auction and was infact bidding on a Charlton vs Coventry, TV relay programme from 1966!
What is your best buy?
I haven really had any great buys either. I've bought a few programmes on eBay for a quid or two which I know to be worth £10-£20 but nothing amazing. The biggest stroke of luck that I've had in collecting though was being given collections from a number of different family and friends which have turned out to contain some of the most sought after items in Cardiff City collectors collections.
What is the most you have paid for a programme and which one?
As far as I remember it would be the £11 I paid on the weekend for the Knighton Town edition. I did make a bid last night for a game from our 1968 tour down under. It was against Canterbury and although the programme was in poor condition with rust and holes punched, I bid £40 but was outbid by the winning bidder who paid £41.
What is the most you have received for a programme and which one?
I sold a programme on eBay around three of four months ago. It was Cardiff City vs Mjondalen IF from the ECWC in 1969. It went for around £25 which is amazing as since then ive seen it fail to sell on eBay for 99p!
What is your most prized programme?
That would have to be the programmes from our tour of Africa simply for their rarity. There are then programmes which are prized to be for other reasons; Torquay in 1993 because it was my first game, Portsmouth in the FA Cup Final last year, because I got to watch Cardiff City in the greatest Cup Final in the world which is something I never really dreamt I would do. Finally Cardiff vs Ipswich last month which was our last game at Ninian Park where I have spent so many Saturday afternoons over the last 16 years.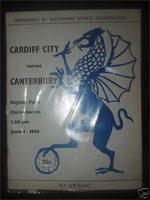 Whats your biggest regret in collecting?
I've not really been collecting seriously for long enough to have any regrets. I do wish I had bid more for the Canterbury programme last night as it is extremely rare and would have been nice to own. I also wish I had looked after some of my programmes better when I was younger. Aside from that though I have no regrets.
The Hobby
In you opinion, is the programme collectors communtiy shrinking or growing?
Although a lot has been written about the demise of the 'Programme Fair' and Programme Shops, I simply think the hobby is just evolving and as big, if not bigger, than ever before. People no longer trawl the country looking for that elusive programme at a Programme Fair, instead it is just so much easier to use the internet to find the items you require. With over 140,000 programmes listed on eBay, 3000 subscribers to Programme Monthly and membership of The Programme Forum expanding by the day, I struggle to see how the collecting community could be shrinking.
What do you enjoy most about the hobby?
The Programme Forum! I enjoy buying, selling and exchanging programmes with all the members on the forum and also the vast knowledge that people on there have on items related to their collection/team. The forum is getting busier by the day but it still seems that if anyone has a question on any aspect of collecting, it can normally be answered pretty quickly by another member.
Where do you buy most of your programmes from?
As I am still at the stage of collecting where there are literally thousands of programmes that I require, I am easily able to purchase programmes from a number of sources. In the past month I have bought programmes via The Programme Forum, eBay and various dealers. I also have a number of outstanding bids for items in Programme Monthly. I find eBay to be the easiest way though as there is just so much on there and daily there are differnet interesting items popping up.
The Future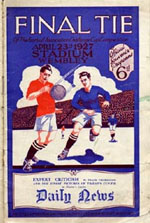 If money was no object, which programme would you most like to add to your collection?
1927 FA Cup Final programme. Cardiff recorded their greatest day in history on April 23rd 1927 by beating Arsenal 1-0 in the FA Cup Final but sadly a programme from the historic day is going to set me back a far bit! One sold today at Sportingold for £1200, which was under the estimate of £1400-£1600.
Would you ever sell your collection?
I couldn't see me selling my collection any time in the next few years. Maybe when I'm a lot older I would sell it if need be for the good of my family, but ideally I would like to pass the collection onto someone to continue building it.
How do you wish to develop your collection over the coming years?
I would like to complete my collection back to 1950 although I expect this to take a fair few years. I'd also like to collect all of Cardiffs away european games and also some of the other rarer away games from our history.