Stats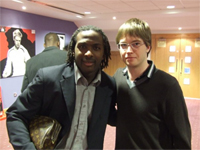 Name :

Matthew Collins


Forum Nickname :

Geddon


Age :

22


Started Collecting :

2003



About Me
What do you do for a living?
I'm studying Computer Science at Swansea Uni, just finished my second year. Also doing some varied but not very interesting part time over the summer.
Which club do you support and why?
Swansea City. My dad was a rugby ref, and would sometimes take me with him to matches, but I much preferred football. His whole family's from Swansea and my uncle used to watch the Swans in the 50s and 60s, so it wasn't a difficult choice! Started to take an interest around 1996 and then went down for the first time in the 98-99 season. Been a season ticket holder since 2003-04 when I stopped playing football on Saturdays regularly.
What do you collect?
Swansea City programmes mainly! At the moment looking for homes from the 50s and early 60s, as well as aways from the late sixties onwards. Also have smaller collections of Wales programmes, Bridgend Town in the Southern League, Welsh Cup finals etc.
How did you get into programme collecting?
Always bought a programme from games I went to, then started to fill in the collection a few years ago. I used to watch Bridgend RFC when I was younger and got tons of old programmes from there, and just transferred the hobby over to football.
Your Collection
What was your first football programme?
Swansea City vs. Leyton Orient, 22nd August 1998
What was the last programme you bought?
As above
How big is your collection?
I have around 3,000 programmes in total I believe, although would need to count them all again to be sure.
How do you store your collection?
I have a bookcase full of most of the programmes, but that got full a while ago. I have another separate draw type thing for more recent programmes, as well as box binders for the older programmes. Currently looking to buy some programme binders but I've spent all my money on programmes!
Whats the oldest programme you own?
Two from the 45/46 Victory League, away at Chelsea and Arsenal.
What is the rarest item in your collection?
Probably the 1973/74 Welsh Cup game against Stourbridge.
Which programme from your club is the rarest and most expensive to obtain?
I've seen very very few prewar programmes for the Swans, but there are a number of Welsh Cup games from the 50s and 60s that come up every so often - Llanidloes from 1970 is one on ebay at the moment, usually goes for at least £150.
What is...?
What is your worst buy?
I haven't had too many of these thankfully. Although I did spend £20 on a 1955/56 home against Liverpool a while back, and there's one on ebay at the moment going for £11.
What is your best buy?
The aforementioned Stourbridge programme. The most I've paid for a programme (£35), but it usually goes for around double that.
What is the most you have paid for a programme and which one?
As above.
What is the most you have received for a programme and which one?
I haven't sold too many programmes, so I'd imagine it's only a fiver.
What is your most prized programme?
I don't really have any specific one, but most of the late 40s homes I've got.
Whats your biggest regret in collecting?
I'm sure everyone else will say the same, but not starting earlier - there were programmes available for games I missed when I started going that I had to pick up later, some for away games I'm still missing. Also not wanting to pay too much money for individual programmes on ebay and the like before realising that I would have been getting a bargain.
The Hobby
In you opinion, is the programme collectors communtiy shrinking or growing?
Growing - the internet has revolutionised the hobby, and sites like FPC are only going to keep it going.
What do you enjoy most about the hobby?
Collecting programmes, of course, but I also think the forum is a great place to meet like-minded people as well as pick up a few extra programmes!
Where do you buy most of your programmes from?
Matches I attend, ebay, the programme centre, as well as Duncan Jardine, Rugby Relics, Tony Coombs (although not recently), and sportsprogrammes.net.
The Future
If money was no object, which programme would you most like to add to your collection?
Our 1926 FA Cup semi-final vs. Bolton, or our first game as a League club against Portsmouth in 1920. No idea how much either would cost but I'd imagine quite a bit.
Would you ever sell your collection?
Probably not, I've spent so much time building it up I'd hate for it to go.
How do you wish to develop your collection over the coming years?
I'd like to have every home programme back to the war in the next few years, although as I get further back the cost is obviously going to increase. After that maybe start on the aways, I don't really know.