Stats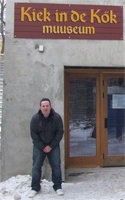 Name :

Matt Charles


Forum Nickname :

mattblue


Age :

30


Started Collecting :

1986



About Me
What do you do for a living?
Evening all :) Am sure you can all guess !!
Which club do you support and why?
Cardiff City – I was born in Neath but could never support the jacks, plus with my old man born 2 doors from Ninian Park I think I would of been disowned !!
What do you collect?
Cardiff City, Wales, FA Cup Semis and Final, League cup semi and finals, internationals, spurs, welsh league clubs in Europe. My Cardiff collection goes back to the 40's as does my wales collection
How did you get into programme collecting?
My dad basically, he use to collect when he was younger however stopped during the late 70's since the late 80s the collection has slowly been growing to the size it is today
Your Collection
What was your first football programme?
1986, not sure against who....but one would of been bought at my first match
What was the last programme you bought?
Yugoslavia v Wales 1976 today 10th June !! Paying £45 for it which is quite reasonable
How big is your collection?
15k - 20k in the collection – not only programmes, in the collection we have around 10,000 autographs, every league pennant around 200 in total, around 600 badges and similar amounts of match tickets/press passes/vip passes/Teamsheets. I am missing 6/7 FA Cup Final programmes back to the war which I hope to complete over the next few years.
How do you store your collection?
Everyone in a polypocket and in a binder, we are now making the third bedroom a programme room
Whats the oldest programme you own?
Late 30s with Aston Villa, strange I know but just some of the items that my father picked up over the years.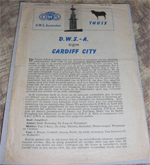 What is the rarest item in your collection?
There are a few to be honest, i've programmes from the nz/auz tour and rare away Cardiff city friendly programmes from the 60's...Also a book from the 60's "The Gentle Giant" by John Charles with every page signed in it. I very much doubt that there is another like it in the world !!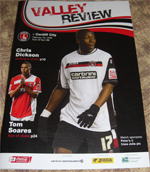 Which programme from your club is the rarest and most expensive to obtain?
If you could get one either the 1921 fa cup semi final or the 1927 charity shield final, have seen the 27 charity shield final a few times but never the 21 cup semi final. Of modern era, any of the auz/nz tour demand a high price, rare away friendlies like DWS of Amsterdam in 69 hold a high value, luckily my dad was given this programme in 1969. As Craig states the list is endless as now more and more people are collecting Cardiff City programmes The rarest programme since 2000 has to be this seasons Postponed match against Charlton Feb 2009, there were around 60 produced, 50 went on general sale to Charlton fans, the others were left to be fought over on ebay, the highest going for £132, luckily again I contacted the club and managed to purchase 2 for £50 :)
What is...?
What is your worst buy?
Can't say i've been unlucky when it comes to football programmes...so not really had a worse buy...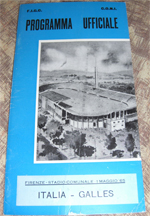 What is your best buy?
My best buy of all has to be Italy v Wales in 1965...Whilst working in IT I use to have my home emails forwarded to work. I received an email from a person selling this programme. Naturally within 5 seconds i replied ill take it ....the chap later told me he had 6 responses within 15 seconds, mine was the quickest....and the price £50....a total bargain with the programme that should of cost triple that.
What is the most you have paid for a programme and which one?
To be honest I've never gone mad on programmes when it comes to costs, mainly as the rare items have always been in the collection Even for late 40s Wales programmes the most ive paid is £30.
What is the most you have received for a programme and which one?
I had OFK Beograde v Spurs in Europe from the 60's, this was given to my dad as a kid...I sold it for over £400.
What is your most prized programme?
Single sheet league cup 3rd round in 1945 at Wolves.
Whats your biggest regret in collecting?
Not buying programmes years ago for low amounts which are demanding the big figures now, like 1965 league cup semi v west ham, I have it in my collection and my father use to get it offered at £15 a throw....roughly sells for around ten times that amount these days....also in the mid 80s the 1927 fa cup final use to fetch £70 to £80....this now roughly sells for around £1000-£1500.
The Hobby
In you opinion, is the programme collectors communtiy shrinking or growing?
Its hard to tell, on one side of the coin you have the internet which is easily accessible for most, on the other side you have programme fairs which seem to be dying out....This I feel is a shame as I for one prefer to have a programme in my hand rather then a photo and a description.
What do you enjoy most about the hobby?
The people who collect and who are able to show me items that I thought never existed...then the task of finding someone who is selling it !!!
Where do you buy most of your programmes from?
Normally from ebay or buy going to the games....having not missed a Cardiff/Wales game for over 14 years it makes it a lot easier
The Future
If money was no object, which programme would you most like to add to your collection?
I think it's a case of programmes, I would love to complete all of the league cup semi finals and finals. Going on dealers prices I would need around £8,000 which is a crazy amount. Also the 1925 cup final programme would be nice to have.
Would you ever sell your collection?
No, wild horses could never part me away from the collection.
How do you wish to develop your collection over the coming years?
Over the next few years I would like to complete all the FA cup finals back to the war.